[Update: Please don't shy away from thinking that fuzzy yarn is hard to crochet, I have developed a video on crocheting a Sheep Amigurumi, you may find it here. It is not as difficult as you have thought.]
Hi there!!!! Another adorable animal amigurumi pattern from AmiguruMEI, one of the designers and contributors of amigurumi patterns in Craft Passion. This time she designed a Panda Amigurumi named Pan-San based on a request from a reader. This Panda Amigurumi came in just a little late to celebrate the Panda Day on 16th March, but, it is never too late to crochet it any time of the year to own this adorable panda amigurumi doll as a unique collection or as a handmade gift to your loved ones.
Pan-San the Panda amigurumi has a serious sweet tooth on bread, cookies, candy, and cupcakes. Besides all the sweet and scrumptious snacks, his favorite drink is a cup of hot green tea which is good to wind him down after all the high sugar content diet.
Panda Amigurumi – Free Crochet Pattern
scroll ⬇️ to get the free pattern & tutorial
In addition to the frequent trip to the grocery shop to stock up Pan-San's food cabinet, due to Pan-San's fuzzy fur, his mum is busy helping up in the grooming to keep him tidy and good looking after his cat-naps throughout the day. What a handful boy to take care of, he sure is a lucky one to receive all the loves and attention from his mum!
After going through all the amigurumi patterns, I have to say I really like AmuguruMEI's amigurumi doll, they always come with their own characteristic and personality. It started off with a sleepy look Purple Owl "Mr. Murasaki", snowflaky white Polar Bear "Bubblegum", heart-warming "I ruff U" Puppy "Tammy", lovely pink Easter Bunny "Ichigo-chan", rosy chicks ballerina Piggy "Princess P", apple lover baby Hedgehog "Mimi-chan", mischievous baby Monkey "Daikichi", the busy Hen & Chicks "Tori & Twins Tama-Go" and this sweet tooth Panda "Pan-San". I really love the way she gives the character to all her amigurumi designs. **BIG APPLAUSE**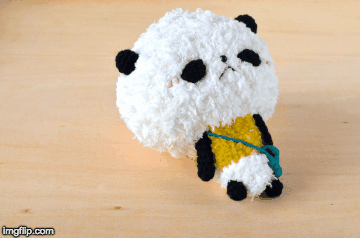 More Details on how to crochet the Panda Amigurumi
When working with fuzzy yarn, it is always easier to pair it up with another ball of acrylic yarn of the same color.
The "wrong side" of the yarn is often used as the right side when it comes to working with fuzzy yarn.
Use your hands to mold head into shape. We gave Pan-san a flatter, oblong look.
You may customize Pan-san's lips (to give him more of a smile) by using a darning needle to gently loosen the black crochet thread that forms the upside down "V".
Pin the parts into place to check for sizing before you start sewing on everything.
To create a sling bag look, make sure the strap is passed through Pan-san's right arm near the neck.
You may lightly trim the surface of Pan-san's face to give the features more definition.